Thor RV Company is a massive RV company with many, many brands of RVs. However, many people will START with searching for Thor Travel Trailers.
By massive, I mean that Thor sold in 2018 over $8B of RVs and maybe a few other things. They have 17,000 employees. Compare that to Forest River who employs around 10,000.
Their brands are Dutchmen, the iconic Airstream, KZ, Crossroads, Heartland, Jayco, and many more. These brands are MORE like manufacturing facilities than necessarily brands. Thor does a very good job of buying some of the most iconic brands in the RV industry.
You can learn more about their high level brands by clicking on the panels below.
Thor Travel Trailer Sub-Brands and Makes
Thor Travel Trailers for sale – Current live updating
New and Used -- Search Terms --> thor - Travel Trailer <--- for sale on eBay : LIVE UPDATED LISTINGS!!!
(Search excludes auctions and classified listings - only fixed price shown. This is a very exclusive search and may show some really odd results as we attempt to do a wider search to try to match the keywords)
Used --> $ 31,000
2021 KZ Escape E20 Hatch Travel Trailer 20 ft - Listed as used but never used
See eBay Listing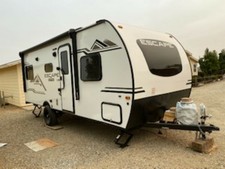 Here is a list of Thor Travel Trailer Units in RV52.com database:
Here is the Thor Travel Trailer video gallery :