Video Gallery and information for the RPOD Camping Trailers
These little trailers are the darnest things. I think the fact that a car can pull them and they are amazingly well equipped for basically being a "hard sided" tent.
One of the really big advantages of the rPod is that you can tow the rPod with a car. It would be a GREAT first RV or camper for someone who doesn't want to commit to having a large truck.
The picture (a similar tear drop manufacturer) sums up the idea of a small car pulling an rPod:
Handy Forest River r-POD links:
Potential Forest River rpod Owners Manuals:
Forest River Models
Latest Rpod Videos :
[tubepress mode="tag" tagValue="Forest River RPOD Camping Trailer" orderBy="published"]
Latest Rpod's (matches rpod trailer) for sale on eBay:
New and Used -- Search Terms --> r-pod - Towable Campers <--- for sale on eBay : LIVE UPDATED LISTINGS!!!
(Search excludes auctions and classified listings - only fixed price shown. This is a very exclusive search and may show some really odd results as we attempt to do a wider search to try to match the keywords)
Used --> $ 16,000
2011 R-POD Camper Travel Trailer LIKE NEW!
See eBay Listing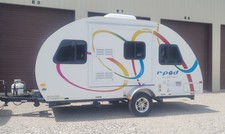 New --> $ 30,999
New 2022 Forest River R-Pod RP-202 Small Ultra Lite Travel Trailer for Sale
See eBay Listing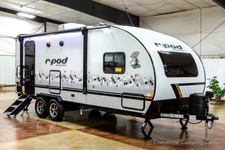 New --> $ 26,999
New 2022 Forest River R-Pod RP-196 Small Ultra Lite Travel Trailer for Sale
See eBay Listing